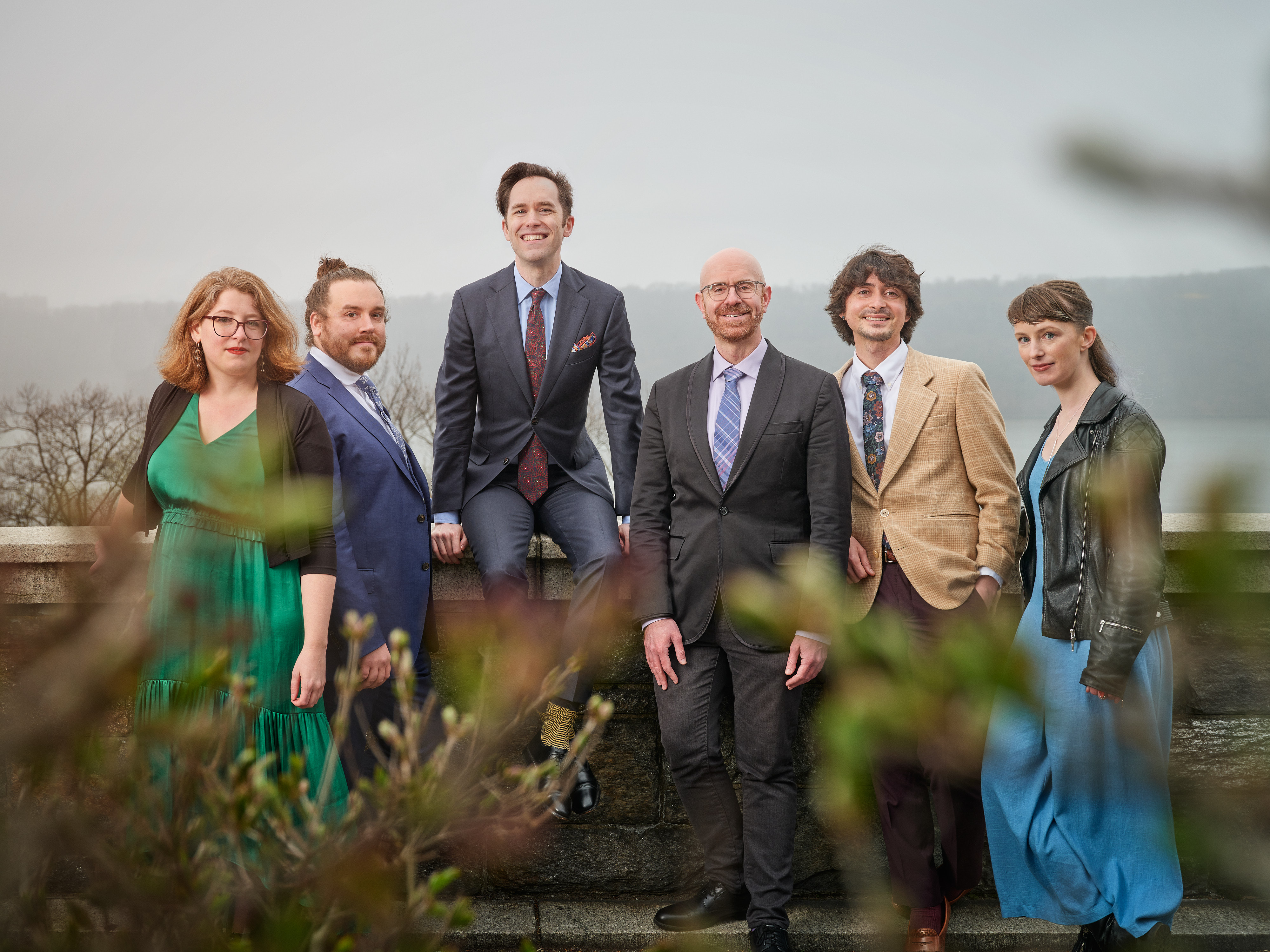 ekmeles is a new music vocal group
[ɛk'mɛlɛs] ek'meles
In Ancient Greek music theory, tones of indefinite pitch and intervals with complex ratios, tones "not appropriate for musical usage." In New York City, a new vocal ensemble dedicated to breathing life into those disallowed tones, new and old.

A "brilliant young ensemble... defining a fresh and virtuosic American sound" - The New Yorker

Ekmeles is a vocal ensemble dedicated to the performance of new and rarely-heard works, and gems of the historical avant garde. They have a special focus on microtonal works, and have been praised for their "extraordinary sense of pitch" by the New York Times. They are the recipients of the Ernst von Siemens Music Foundation's 2023 Ensemble Prize, the first American group to receive the honor.

As part of their work expanding the possibilities of tuning and technique in vocal music, Ekmeles has given world premieres by composers including John Luther Adams, Taylor Brook, Courtney Bryan, Ann Cleare, Zosha Di Castri, Erin Gee, Martin Iddon, Hannah Kendall, Christopher Trapani and James Weeks.

In addition to creating their own repertoire, Ekmeles is dedicated to to bringing the best of contemporary vocal music to the United States that would otherwise go unheard. They have given US premieres by composers including Joanna Bailie, Carola Bauckholt, Aaron Cassidy, Beat Furrer, Stefano Gervasoni, Evan Johnson, Bernhard Lang, Liza Lim, Claus-Steffen Mahnkopf, Lucia Ronchetti, Wolfgang Rihm, Rebecca Saunders, Salvatore Sciarrino, Mathias Spahlinger, and Agatha Zubel.

Collaborations with other musical ensembles and artists has been a part of Ekmeles's work from the very beginning. In their first several seasons they gave the US premieres of Luigi Nono's Quando stanno morendo with AMP New Music, and Beat Furrer's FAMA with Talea Ensemble. Their collaborations with Mivos Quartet include the US premieres of Stefano Gervasoni's Dir - In Dir and Wolfgang Rihm's concert-length ET LUX. Ekmeles joined with members of Tilt Brass and loadbang for the US premiere of Mathias Spahlinger's monumental über den frühen tod fräuleins anna augusta marggräfin zu baden, and Wolfgang Rihm's SKOTEINÓS.

Ekmeles also collaborates beyond the traditional concert stage, including the integration of singers into choreographic works by New Chamber Ballet, and a staged memorized performance of David Lang's the little match girl passion at the MET Breuer Museum directed by Tony award winning director Rachel Chavkin. They also gave sold-out performances with Oliver Beer's Vessel Orchestra, the first sound-based installation commissioned by the Metropolitan Museum of Art. Director Jeffrey Gavett performed at the keyboard of this instrument, composed of 32 resonant hollow objects spanning 7,000 years of the museum's collection. In 2022 they sang as part of John Luther Adams's installation work Veils and Vesper, broadcast on WNYC's New Sounds.

In January of 2020 they released their debut album A howl, that was also a prayer on New Focus Recordings, with works by Taylor Brook, Erin Gee, and Christopher Trapani. Fanfare magazine said the album's performances were "beyond expert - almost frightening in their precision." In the spring of 2020 through May 2021, Ekmeles continued to bring their performances to audiences in authentic ways despite the difficulty of singing together. They performed innovative streaming concerts that combined elements of video art created by members of the ensemble, pre-recorded performances, and live synchronous online performing. Ensemble members performed simultaneously from San Francisco, Philadelphia, and New York.